Teen Social Sites vs. Adult Chat Rooms (Analysis)
Teen Social Sites vs. Adult Chat Rooms (Analysis)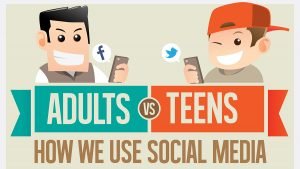 There are several different age classifications for chat rooms available online.
And it's important to stick with sites that are appropriate for your generation. After you're over 18, it may seem a little weird if you are conversing with people who are much younger than you. Then those who are minors, you might be putting yourself in a vulnerable position by talking with people a lot older than you.
---
Adults Are Able to Get Sexy
When adults get together online, things may take a turn for the sexy. Some chats are specifically for sex or fetish topics. So research your local laws to see if you must be either 18 or 21 to view such material. For anyone under the legal age, don't join this type of chat room because you could be putting yourself at risk. On the other hand, adults should make sure they're only sex chatting with people who aren't minors. Overall, most websites have some sort of verification process to ensure safety. However, those eager to experience an explicit conversation usually have ways around this. Therefore, always be careful!
---
Teen Chats May Have Lurkers
Sometimes people who enjoy talking to teens simply join a teenage chat room to see what people say and watch the different topics that come up. Adults in this situation should be aware that your behavior could be seen as totally creepy. If you are an adult in a teen chat and you decide to stay, never discuss anything sexual because that's unacceptable.
---
It's Not All About Age
Some websites are available to people of all ages. They might be on a specific topic like a video game or a hobby like cars. These chats could be filled with teens or adults or a mixture of both. In this type of chat, you should again make sure that people are above a certain age before you get them to talk about anything that is too sexual in nature.
---
Lastly, Don't Be Scared!
As long as you stick to a chat that is appropriate for your age, and make sure to do your best to find out someone's age when you are chatting with them online, then you don't really have anything to fear when you chat online. Just keep things appropriate and relax to have a good time. There's really nothing to fear when you talk to people who are online to make friends just like you are!
---
About The Author. — Chatomg is an expert in communication and contributor to Joingy, a chat app to meet strangers. Visit their Official Blog for guides on similar chat topics.