How to Deal With Crowded Chat Rooms
How to Deal With Crowded Chat Rooms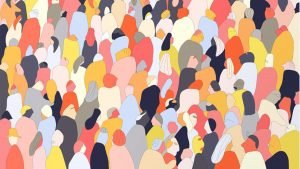 Are you on the shy side? Or are you simply not used to dealing with large groups of people? Then it can be overwhelming to deal with a crowded chat room. In fact, the sheer amount of text going back and forth between the members can seem like a whole lot. Luckily, there are a few easy tips for preventing this problem!
---
1. Compare It to Real Crowds
Crowds in real life are way different than experiencing one online. You don't have to push past people or deal with them trying to talk to you and getting in your personal space. Online you can really control the events and not talk to anyone that you don't wish to communicate with. You're much more in control of the situation if it's an online room versus a crowded place in the real world.
---
2. Fill Out Your Profile
Your profile is a great way to communicate a lot about yourself without having to talk to people and explain the same things over and over again. This will allow people to approach you privately if they feel like they want to talk to you based on something you have said in the main chat. It will also easily allow you to check people out and see if you would like to talk to them! The one thing to be aware of here is to not lie in your profile, because then you won't actually get people who are interested in the same things as you!
---
3. Learn About the Tools Available
Many chat rooms have tools available to make chatting even easier when it's crowded. For example, users can block or ignore people who they find annoying. Sometimes, you may even turn on notifications or 'Favorites' for certain members. That way, it'll notify you whenever they're online and having conversations with others. Take note, different chat rooms could have more cool tools like these. Always do your research and prepare for when things get crowded!
---
4. Select Relevant Chat Rooms
If you are in a general topic chat room, the conversations may not even be relevant to your interests. Therefore, it wouldn't be worth it to spend your time there any longer. Instead, try to find a community that's more specific to something you enjoy. That'll cut down on the unnecessary amounts of chatter and clutter, making it more interesting overall. – Regardless of whether it's crowded or not!
---
About The Author. — Chatomg is an expert in communication and contributor to Joingy, a chat app to meet strangers. Visit their Official Blog for guides on similar chat topics.