3 Free Ways to Meet People Online
3 Free Ways to Meet People Online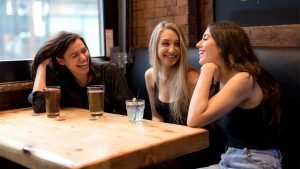 If you are feeling kind of lonely and hoping to meet new people online, there are several ways to do it. However, many of those ways cost a bit of money. If you are tight on cash but still want to broaden your social horizons, follow these tips to meet people for free online!
---
1. Dating Sites
Of course, online dating sites have a romantic twist to them, but who wouldn't want to meet a new flirtation partner, a casual date or even a life partner? There are also some online dating services that let you choose between romantic options and platonic searches. Some online dating sites cost a bit of money, but there are plenty which are totally free. Even the free ones have premium options that you can pay for to make the experience even better, but plenty of people have met friends and new lovers completely for free.
---
2. Social Media
Almost all social media is totally free. The most popular sites out there allow you to turn yourself into a brand and post things online that will attract others to you and make friends who are in line with your interests. These sites allow you to post media and images of yourself, or simply ones that interest you and show off what you're into. Some social media sites have a focus. For example, LinkedIn is mainly for professional people wanting to make business connections. However, others are just general and make a great online playground for you to make friends!
---
3. Chat Rooms
Chat rooms are an amazing way to make friends online. They allow you to talk to people and really get to know them. A lot of people think they are better than online dating sites or social media sites for making friends. This is because you can always find people online who want to chat since the purpose of a chat room is to talk to other people, while the purpose of online dating sites and social media sites is a little different. Chat rooms are full of people who actually want to make online friends making it a top spot to do so!
Now that you know the best ways to make friends online for free, nothing is holding you back from giving it a shot. These are three separate options but if you really want to succeed at making friends online you can give all three of them a try!
---
About The Author. — Chatomg is an expert in communication and contributor to Joingy, a chat app to meet strangers. Visit their Official Blog for guides on similar chat topics.